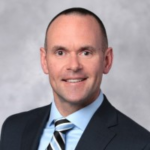 Drawing on over 20 years of experience, Matt Carmichael is a commercial banker focused on the financing and treasury management needs of small and mid-size companies in the Pacific Northwest.
He works closely with ownership and management to understand their business, proactively providing strategic advice and integrated financial solutions to help them succeed. Core capabilities include arranging lines of credit, term loans, owner-occupied commercial real estate financing, equipment financing and comprehensive cash management services.
Before coming to First Financial Northwest Bank, he held positions in credit, business development and relationship management with Columbia Bank, JP Morgan Chase, Bank of America, Wells Fargo and Skagit Bank. Carmichael is a graduate of Brigham Young University where he studied business and literature.